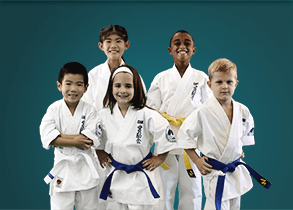 A Karate School for Kids!
At our Karate School, your child gets a fitness workout and learns the basics of a traditional Japanese martial art in a safe, stimulating and respectful environment.
Our karate classes for kids are aimed at three distinct groups: 4 and 5, 6 and 7 and 8 to12 years old. We motivate our young students by focusing on their strengths and offering them challenges they strive to meet!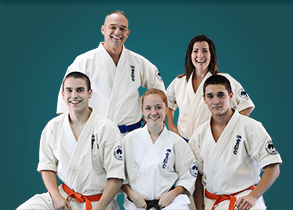 Get a Kanreikai Fitness Workout!
Karate is not only for children! Our school counts numerous teenagers and adults who train regularly.
Teenagers, guys and girls, discover the benefits of a martial art that helps them channel their energy and increase their self confidence.
Adults enjoy high intensity cardiovascular fitness workouts in a friendly and respectful atmosphere.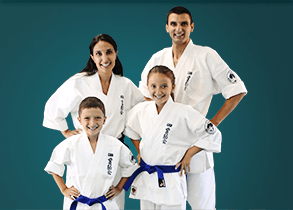 A Great activity for your Family!
It has become increasingly difficult for families to do things together! Parents and kids go about their respective occupations and end up doing few fun activities together.
A solution? Join our Family Program! Start karate with your children and discover martial arts together. Our instructors will make sure that everyone in your family enjoys the physical, psychological and social benefits of martial arts in his own way.
OUR KANREIKAI KARATE SCHOOL OFFERS CLASSES FOR KIDS, TEENS AND ADULTS IN MONTREAL WEST ISLAND
OSU! Our school is located in Pierrefonds in Montreal West Island. We thave been teaching martial arts since 1998, serving populations of Pierrefonds, Kirkland,Île-Bizard, Beaconsfield, Pointe-Claire, DDO, Senneville and Baie-d'Urfé.
Karate Classes for All
We offer martial arts classes, more specifically,  karate classes for kids, teens and adults, meaning that everyone in your family can benefit from training with us in terms of fitness, concentration, self-esteem and personal achievements. We also train a very successful Competition Team that takes part in regional, national and international karate tournaments.
Have a look around our website to learn more about Kanreikai Karate, our instructors, programs, schedule, news and activities. Do not hesitate to contact us. Come and meet with Shihan Denis Cordeiro and our instructors and visit our school. It could change your life!